10 benefits of a professional HTML5 video player
Last updated: 12 April 2023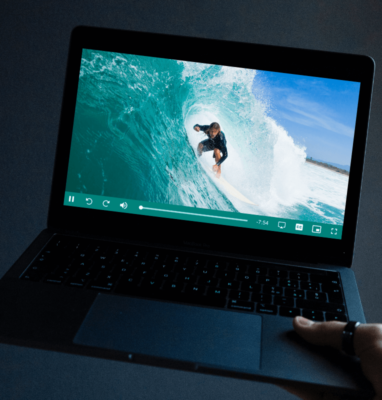 In today's digital age, video is a critical component of many businesses' marketing and communication strategies. A high-quality, interactive, and user-friendly video player can make a big impact on how you reach your target audience. Here are the top 10 benefits of using a professional HTML5 video player.
1. Increased Brand Awareness
A brandable video player allows you to showcase your brand by adding your logo and customizing the player's look and feel to match your brand's aesthetics.
2. Improved User Experience
An interactive video player allows for a more engaging viewing experience, with features like the ability to add annotations, chapters, and call-to-action buttons to your videos.
3. Privacy Protection
A video player that respects privacy ensures that your users' data is secure and protected. It also complies with privacy regulations such as GDPR and CCPA.
4. High-Quality Video Streaming
Support for 4K and 8K streaming allows for the highest quality video viewing experience, regardless of the user's device or internet connection.
5. Cross-Platform Compatibility
An HTML5 video player is compatible with all modern browsers and devices, allowing for a seamless viewing experience across desktops, tablets, and mobile.
6. Increased Engagement
An interactive video player encourages users to engage with your content, resulting in increased engagement, brand loyalty, and conversions.
7. Seamless Integration
A professional HTML5 video player can easily be integrated into your website or marketing platform, allowing for seamless video integration.
8. Increased Accessibility
With support for closed captions and other accessibility features, a professional HTML5 video player ensures that your videos are accessible to all users, regardless of ability.
9. Reduced Cost
A cloud-based video player eliminates the need for expensive development and licenses, reducing the cost and complexity of your video service.
10. Monetisation
A professional HTML5 video player supports VAST advertisement and lets you monetize your videos and streams through advertisement, pay-per-view and subscription services, and offers interactive call-to-actions to drive sales.
In conclusion, a professional brandable, interactive HTML5 video player that respects privacy, and supports 4K and 8K streaming offers numerous benefits to improve your video strategy. From increased brand awareness to improved user experience and reduced cost, a high-quality video player is a must-have for any business looking to take their video strategy to the next level.
---
A little advice
If you haven't found a player that meets your needs, our Privacy Player Pro is a solid choice to consider. Not only does it offer the advantages previously mentioned, but it is crafted to elevate your video strategy to new heights. With its smart algorithms and active mid-stream CDN switching, you can expect seamless and uninterrupted video streams. Even in 8K quality. And, with support for Airplay and Chromecast, your audience can enjoy your streams on the big screen. Experience the dynamic branding and interactive benefits of Privacy Player Pro for yourself with a free 30-day trial. Say goodbye to buffering and delays!