5 ways how Jet-Stream Mix simplifies broadcasting operations
Last updated: 10 March 2023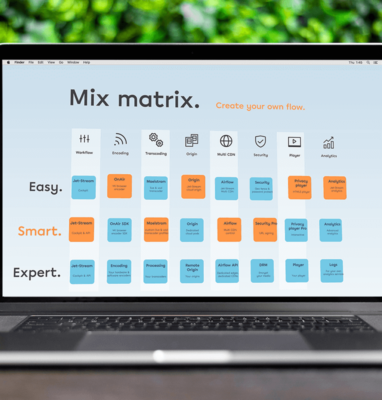 As the internet continues to evolve and expand, so does the world of streaming. With millions of people tuning in to watch their favourite shows, movies, and live events, it's clear that streaming is here to stay, and growing. But with so many moving parts involved in streaming, it can be challenging to manage all the different aspects of a broadcast or an online video service. That's where Jet-Stream Mix comes in.
What is Jet-Stream Mix?
It is an award-winning innovative cloud workflow solution that simplifies broadcasting operations in Easy, Smart and Expert ways. Thus, making it easier for businesses to create and deliver professional streaming content. With its intuitive web interface and powerful API, Jet-Stream Mix streamlines workflows, automates processes, and helps broadcasters save time and money.
Benefits and downsides of video platforms.
Streaming is complex technology. Video platforms make life easier. You don't need a team of experts to design, implement and operate a streaming platform. However, by filtering out your access to 'under the hood' technologies, you lose control over the quality, performance, uptime, distribution, and costs. Video platforms also don't offer a broadcast-grade service and force their workflow upon you.
Benefits and downsides of cloud media services.
Cloud media services allow you to create advanced, bespoke streaming architectures. You have full control over every step in the workflow and full freedom in building a service that suits your high-demand requirements. However, building a streaming stack on clouds requires deep expertise, and an expensive team. The time to market is months, with risks of failure.
Mix: best of both worlds.
The premise of Jet-Stream Mix is simple: Other providers may force you into a particular workflow, but with Jet-Stream, you're able to mix and match workflow components. Jet-Stream Mix is the best of both worlds: it allows you to quickly set up online video and audio streaming services, with the ability to tune each step in the workflow, and integrate your own advanced services, too. In other words, it is open standardized streaming orchestration software that lets you create advanced bespoke workflows, without the need to develop custom technologies. You get the ease of use of video platforms, plus the control and freedom of cloud media services, without the associated drawbacks. Your streams are running on a specialised cloud that outperforms generic clouds, is European and is GDPR compliant. Your TCO will go down and your performance will go up.
Easy, Smart, Expert – what does it mean?
The "Easy, Smart, Expert" philosophy behind Jet-Stream Mix is a guiding principle that reflects our commitment to making streaming simple, efficient, and effective for businesses of all sizes.
The "Easy" aspect of the philosophy refers to the platform's ease of use. User-friendly interface, one-click streaming, and automatic transcoding, storage, and real-time analytics features make it easy to create and deliver high-quality content without needing to worry about complex technical details.
The "Smart" aspect refers to advanced capabilities. These allow you to tune each step in the workflow, adjust your streaming workflows and optimize qualities, costs, distribution, reporting, security, and branding.
The "Expert" approach allows you to create advanced streaming workflows in minutes, not months, by integrating third-party services and mixing these with Jet-Stream optimised services.
How does Jet-Stream Mix simplify your life?
With streaming getting bigger and bigger every year, more and more broadcasters are looking for smarter tools to make their operations run as smoothly as possible. And Jet-Stream Mix is one of them. Here are some of the ways how it can make streaming easier and more efficient:
1. One-click streaming
With Jet-Stream Mix, you can start a 4K professional live stream in just one click and publish your stream in a second click. Our platform automatically takes care of professional transcoding, storage, streaming, player, and real-time analytics automatically.
2. Customization
Jet-Stream Mix allows broadcasters to customize their streaming workflows to meet their specific needs. Thus, with the ability to set up radio channels, customize personal transcoding profiles, and manage security per video in real-time, media broadcasters can fine-tune their content to deliver the best possible experience to their audiences.
3. Multi-CDN distribution
Multi-CDN distribution controls ultimate streaming performance per region. Thus, ensuring that audiences receive the highest quality streaming experience, no matter where they are in the world.
4. Workflow automation
With Jet-Stream Mix, you can create advanced streaming workflows in minutes, not months. The powerful APIs and easy-to-use web interfaces make it easy to integrate live encoders, transcoders, and origin servers, as well as to manage users and rights and take full control over CDN distribution per viewer.
5. Encryption and security
Jet-Stream Mix offers encryption for streams and real-time security management per video, ensuring that content is always protected.
In conclusion, Jet-Stream Mix is the perfect tool for streamlining workflows and simplifying broadcasting operations. It is easy to use and saves time and money. Contact us today to learn more about how it can help your business.