Bunny CDN and Jet-Stream announce partnership
Last updated: 14 November 2023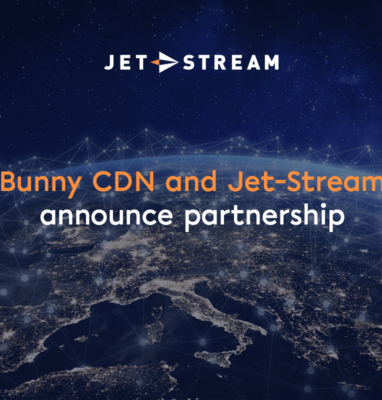 Amsterdam, November 14 – In a move that underscores the demand for sovereign European cloud and CDN services, Jet-Stream.com and bunny.net announce a partnership, marking another addition to Jet-Stream's mix of multiple CDNs.
This collaboration strengthens Jet-Stream's Airflow multi-CDN solution as the choice for sovereign, independent and multi-vendor streaming services, now reinforced with the inclusion of the European-based provider Bunny CDN.
European and sovereign
In Europe, there is an increasing need to work with EU-only vendors, to guarantee data protection and GDPR compliance. By adding the EU-owned, operated and hosted Bunny CDN to the EU-owned, operated, and hosted Jet-Stream Cloud, customers are ensured that European audiences are serviced with 100% compliance with the strictest data protection regulations. bunny.net is excited to help us take this one step further by enabling one-click EU-only CDN routing to help meet even the strictest interpretations of GDPR.
Independence and portability
The streaming industry has witnessed a series of challenges and transformations lately. High-profile services such as Microsoft Azure Media Services, StackPath CDN, and Lumen CDN have met obstacles or have discontinued services. In this context, the importance of a multi-CDN strategy is more apparent than ever, ensuring that content reaches its target audience smoothly and efficiently across the globe, beyond the footprint of one or two CDNs. By adding bunny.net to its mix of 9 CDNs, Jet-Stream customers are ensured of a reliable, future-proof, highly available service at very competitive rates. To top it all off, bunny.net's reputation as one of the fastest global CDNs and a top performer in Europe will help us to continue to deliver market-leading viewer experiences.
"We believe in independence, portability, uptime, performance, and sovereign European services. With Bunny CDN by our side, we're not only enhancing our focus on GDPR privacy and data protection compliance in the EU but are also solidifying our position as the extremely reliable streaming service" says Stef van der Ziel, CEO of Jet-Stream.
"At bunny.net we are committed to making a faster, safer and better internet more accessible for everyone. By partnering with Jet-Stream, we are taking another step in the right direction to make this possible for them and their customers in both Europe and around the world. For European users, this means a reliable GDPR compliant streaming solution powered by one of the market's fastest CDN providers." – Dejan Grofelnik Pelzel, CEO and Founder of bunny.net.
About Jet-Stream
Jet-Stream is a pioneer in the streaming industry, offering a comprehensive suite of streaming services in Europe. They are renowned for their live and on-demand streaming capabilities, transcoding services, media security, advanced analytics, and a feature-rich video player. Moreover, Jet-Stream's Multi-CDN service integrates 9 CDNs and employs an intelligent load-balancing algorithm for optimal content delivery.
About Bunny CDN
bunny.net is a European company on a mission to make the internet hop faster! They provide next-generation CDN, robust security, edge computing, and comprehensive DDoS protection services that help supercharge over a million websites. bunny.net continually ranks as one of the fastest networks in the world and is committed to building better internet experiences for hundreds of millions of internet users each day.