Come celebrate our 20-year anniversary with us at IBC!
Last updated: 13 August 2023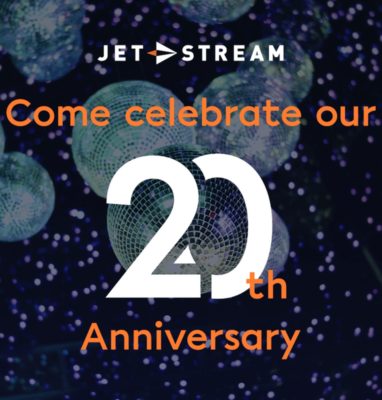 The International Broadcasting Convention (IBC) is just around the corner, and we are excited to announce that Jet-Stream is coming to celebrate a major milestone in our journey – our 20-year anniversary!
Celebrate our 20th anniversary with us!
Jet-Stream 20th anniversary
CDN Alliance Connect social event
Saturday 16 September, 17:30 – 21:30
Knijn Bowling & Restaurant (right across IBC)
As we celebrate two decades of achievements, we also celebrate the partnerships and support that have made our journey possible. None of this would have been possible without your unwavering trust and collaboration. This celebration is as much yours as it is ours! So, let's share this moment together. Jet-Stream is proud sponsor of CDN Alliance Connect. Come celebrate!
The birth of Jet-Stream
Jet-Stream's story began in 1994 when we produced the world's first live webcast. Our company was founded in 2003. Our mission was clear: to scale and professionalize web streaming. The world of streaming was rapidly evolving, and we saw a great opportunity to create a professional and reliable platform for delivering content to audiences across Europe, and the world.
Leading the way in European streaming
As pioneers in the industry, we expanded rapidly across Europe, and it didn't take long before we became the most popular European streaming provider. In 2008, we were ranked #8 in the prestigious Deloitte Fast 50 with an astonishing growth rate of over 1800%! Sounds crazy, right?!
Innovation: our driving force
True to our roots, we consistently pushed the boundaries of what was possible in streaming technology. In 2009, we embarked on the development of our own streaming orchestration platform, which we proudly released the following year. And number of our customers doubled!
Continuous innovation
In 2013, we introduced Airflow Multi CDN. Thanks to multiple integrated CDNs our customers were able to reach their audience around the globe! And in 2019, we proudly presented Privacy Player, which contains no trackers and shields your users and your data from third parties.
A new era: Jet-Stream Cloud
Fast forward to 2022, and we found ourselves going through a transformative rebranding phase, proudly introducing the world to Jet-Stream Cloud. Our European-based streaming infrastructure offers unparalleled data protection, 430% faster streaming, broadcast-grade uptime, new live transcoding, new statistics, even more global CDNs, and a plethora of other innovative features such as the award-winning Mix for workflow orchestration!
---
Let's meet at IBC!
Would you like to learn more about Jet-Stream, our innovative technology and solutions we offer? Then schedule a meeting with our team at IBC and discover the boundless possibilities of streaming. See you there!