Fastly and Jet-Stream announce partnership
Last updated: 9 November 2023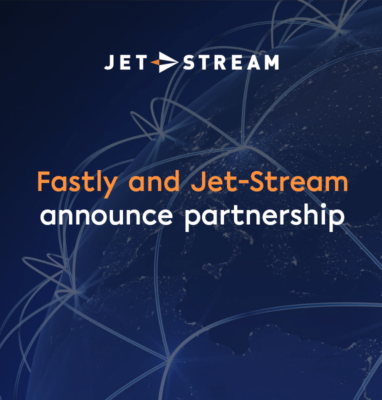 Amsterdam, November 9, 2023 – In a time when the streaming industry is experiencing rapid changes and shifting landscapes, Jet-Stream, Europe's leading cloud streaming service provider, announces a partnership with Fastly, a leader in global edge cloud platforms. This alignment is destined to set new benchmarks in streaming performance, reliability, and global reach.
Recent times have witnessed significant turbulence in the streaming sector, with numerous vendors grappling with formidable challenges or making the difficult decision to discontinue their services. Notable names like Microsoft Azure Media Services, StackPath CDN, and Lumen CDN have recently faced such changes, and the industry anticipates more players to follow suit by selling their businesses, consolidating, divesting services, or, in some cases, shutting down completely.
In light of these challenges, Jet-Stream's decision to partner with Fastly comes as a forward-looking move to ensure seamless and high-quality streaming solutions for its customers. 
"We've been working on a partnership with the Fastly team in the past months. Following the recent loss of StackPath CDN in our Multi CDN mix, we welcome the onboarding of this robust and reliable partner," commented Jet-Stream's CEO Stef van der Ziel. "Our aim has always been to provide a premium solution to our clients, and by bringing Fastly into our mix, we're further solidifying our commitment."
Fastly, known for its software-defined and modern edge network architecture with powerful points of presence (POPs) across the globe, enables reliable and low-latency live and on-demand streaming all while optimizing both infrastructure footprint and ROI. This partnership offers Jet-Stream's customers the advantage of integrating one of the industry's most premium CDN solutions as a standard option.
"We're excited to deepen our relationship with Jet-Stream and to become an integral partner within their ecosystem," said Noel Penzer, SVP International Sales at Fastly. "At Fastly we're constantly pushing the limits of the internet's capabilities and integrating our solutions into the fabric of our network to deliver superior performance, reliability, and utmost configurability, which Jet-Stream's customers from now on can benefit from."
About Jet-Stream
Jet-Stream is a leading streaming service provider in Europe, delivering professional tools for orchestrating streaming workflows, including live and on-demand streaming, transcoding, transmuxing, media security, analytics, and video player. Operating its own cloud, Jet-Stream optimizes operations and reduces costs, all while accommodating streaming quality of up to 8K. Its integrated Multi-CDN service is leading the industry by deeply integrating 8 CDNs, active per-user-request load balancing and an intelligent load balancing algorithm.
About Fastly
Fastly's powerful and programmable edge cloud platform helps the world's top brands deliver the fastest online experiences possible, while improving site performance, enhancing security, and empowering innovation at global scale. With world-class support that achieves 95%+ average annual customer satisfaction ratings, Fastly's beloved suite of edge compute, delivery, security and observability offerings has been recognized as a leader by industry analysts such as IDC, Forrester and Gartner. Compared to legacy providers, Fastly's powerful and modern network architecture is one of the fastest on the planet, empowering developers to deliver secure websites and apps at global scale with rapid time-to-market and industry-leading cost savings. Thousands of the world's most prominent organizations trust Fastly to help them upgrade the internet experience, including Reddit, Pinterest, Stripe, Neiman Marcus, The New York Times, Epic Games, and GitHub. Learn more about Fastly at www.fastly.com and follow us @fastly.