The top 10 benefits of a unified media platform
Last updated: 6 June 2023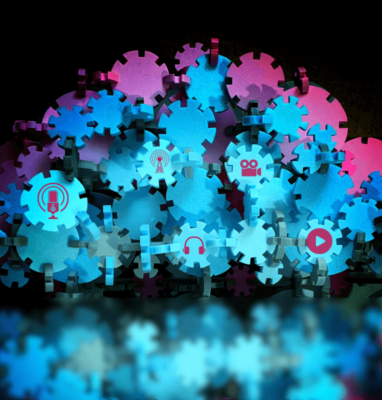 Online media is quickly becoming a key process for many professional organisations: you communicate with your audience via podcasts, online videos, and live event streams.
Professional media companies market or monetise their services via a wide range of online media: internet radio, live streams, music and podcasts.
Online media strategies and business models are quickly becoming integrated, but the platforms are still technical silos. You need multiple platforms for managing podcasts, hosting music, hosting videos, and streaming live radio and video.
Imagine the resources, time and costs involved in implementing multiple parallel workflows in multiple systems. Consider the additional resources, time, and costs required for operating multiple platforms on a daily basis. Then, envision the challenges and effort required to integrate and automate these services and processes.
The importance of a unified streaming platform is evident. And Jet-Stream Cloud offers a holistic answer to today's and tomorrow's needs of professional media organisations. It saves tremendous time, costs, resources, and frustrations.
Here are the top 10 benefits of a unified media platform:
1) Unified media strategy
Technology should never define your business case or use case. With a unified media platform for podcasts, radio, music, video, and live video, you are free to implement any business case and multiple use cases, regarding the mix of media services. That's freedom.
2) Save platform costs
Save money by sourcing only one platform instead of having to purchase multiple platforms for podcasts, music and video hosting, radio streaming and video streaming.
3) One partner
Save money and time by working with one vendor instead of having to negotiate and manage multiple contracts. Save money and time by having one partner, with one SLA, for professional support services.
4) Fast time to market
Save time by implementing easy, smart, or expert workflows for podcasts, live radio, music, video and live video in one easy-to-use, unified platform.
5) Slash operational costs and time
Imagine the burden of having to manage your media across multiple platforms. Save time, resources, and money by managing all your media in one central, unified, and easy-to-use platform.
6) Save volume costs
Benefit from volume deals with one storage and traffic bundle for all your media instead of having to purchase separate volumes with separate vendors.
7) Slash integration costs and efforts
Imagine the headaches, time and costs involved when you need to integrate and automate workflows between multiple platforms, with multiple APIs, from multiple vendors. And having to create custom scripts and tools to run a smooth unified media operation. A unified media platform slashes these pains.
8) Unified analytics
Imagine the burden of having to log into multiple analytics suites, each with their own data interpretation, having to scan, filter and aggregate the correct data and present this in a unified way. A unified media platform takes away these challenges.
9) Flexibility
A unified media platform lets you easily shift focus from podcasts to radio, from radio to tv, from FAST to AVOD, and from SVOD to PVOD, without having to migrate or integrate.
10) No lock-ins
We can imagine that you may think that a unified media platform would create a lock-in. But Jet-Stream Cloud has been designed in an open way. So you can freely integrate 3rd party services and mix them with Jet-Stream services, in an easy, smart, or expert way.
11) Yes, we go to eleven
Jet-Stream Cloud comes with many more benefits: GDPR compliancy, Green streaming, beyond broadcasting quality and performance, great customer support and much more.
Would you like to test our unified media platform? Then start your journey with Jet-Stream by requesting a free 30-day trial!