What is video streaming?
Last updated: 12 December 2022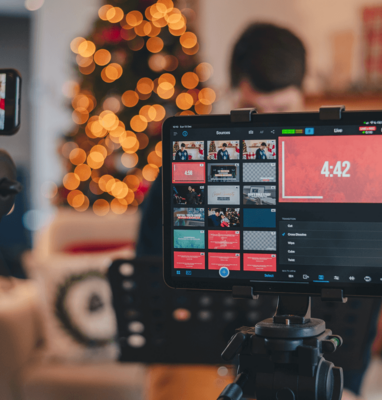 Streaming video and live streaming are rapidly becoming an essential part of the way people consume and share video content. With the proliferation of smartphones, tablets, and other connected devices, it is now easier than ever for people to watch and share videos on the go. And this has opened up new opportunities for businesses, organizations, and individuals to reach and engage with their audience.
Nothing inspires and engages more than (live) video. Nothing else comes closer to a real-life experience. Streaming media helps people to share their knowledge and creativity. And streaming is entertaining too. We sleep 8 hours per day, we work 8 hours per day, and the average consumption of video is 4 hours per day. That's how important streaming has become part of our lives. Being the inventors of streaming, all this makes us quite proud.
At its most basic, streaming video is the process of delivering pre-recorded video content over the internet in real time. This allows users to watch a video as it is being transmitted, without having to download the entire file first. This makes it possible to watch videos on demand, without having to wait for a download to complete.
Live streaming, is the process of broadcasting a live event or video feed over the internet in real time. This can be used to transmit a wide range of events, from concerts and sports games to conferences and other live events, television and radio. Besides, live streaming allows users to watch the event as it is happening, providing a more immersive and engaging viewing experience.
While streaming video and live streaming have been around for some time (we sparked it in 1994), recent advances in technology have made these technologies more accessible and affordable than ever before. This has led to a proliferation of online video platforms, such as YouTube and Netflix, and live streaming platforms, such as Twitch. They have opened up new opportunities for content creators and businesses to reach and engage with their audience.
Overall, streaming video and live streaming are important technologies that are transforming the way that people interact, learn, inspire and entertain.
Video streaming with Jet-Stream
Jet-Stream sparked streaming when we produced the world's very first live internet stream on November 4, 1994, by webcasting a live concert on the world wide web. Although the stream had no audio and just one frame per second, we knew: this will change the world forever.
Today, Jet-Stream is a streaming specialist. We work for European broadcasters, publishers, sports clubs, health care, education, governments, enterprises, and events. We pioneered many streaming technologies. With the combination of our expertise and our own streaming cloud, we help our customers professionalize, scale, and monetize their streaming services.
We are not a video platform like YouTube. We're also not a video service like Netflix. We're also not a Content Delivery Network. We are a SaaS streaming service, offering professional streaming services to customers who need to communicate via online video and live streaming.
In order to offer the best service available, we are a team of specialists with more expertise than anyone else in our industry. We run our own streaming cloud that performs better than generic clouds. We develop our own streaming applications with great features, flexibility and control for live streaming, video streaming, transcoding, storage, multi-CDN, security, player, and analytics.
Our platform is well-known for its advanced workflow automation and orchestration features, which give you full control over every step in the process. No more need for running or hiring an expensive team of developers and engineers. We help our customers reduce their total cost of ownership and build competitive, high-performance services, beyond what regular video platforms can offer.
Are you looking for professional online video and live-streaming services? Fly Jet-Stream.