Which is better? On-premises vs Cloud migration.
Last updated: 14 June 2023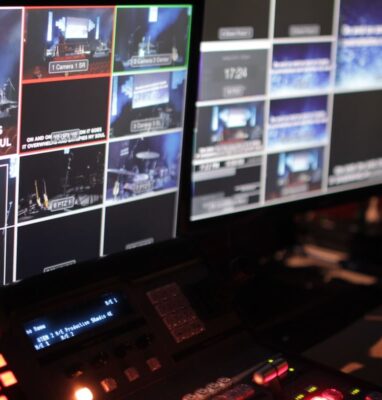 In the ever-evolving realm of media, the broadcasting industry has witnessed a seismic shift with the introduction of cloud migration. It has taken center stage, replacing traditional servers with supercharged cloud-based platforms. This means efficiency and cost savings like never before! It's a revolution that's pushing the boundaries of what's possible in broadcasting. But is it effective?
What is cloud migration?
Cloud migration means shifting your computer systems, data, and workflows from traditional on-premises infrastructure to cloud-based platforms. Instead of managing all the hardware and software in your own physical data centres, you can now use remote servers and services provided by cloud providers.
On-premises
Here's the twist: some organisations are now going against the flow and are reversing their cloud migrations. Yes, you heard it right! They're partially or fully moving back to on-premises infrastructure. So, what should you choose then – cloud or on-premises? Let's take a look!
Delivery
Typically, content delivery is done through a Content Delivery Network (CDN) or multiple CDNs. The reason for this is that on-premises solutions generally struggle to scale effectively and provide the advantages of global performance and uptime. However, with Jet-Stream, you have the option to enjoy the best of both worlds: you can either use the integrated multi-CDN stack provided by Jet-Stream or run your own edge servers or CDN. Or use a mix! That's freedom.
Origins
It is convenient to deploy origins in the cloud to leverage its scalability, uptime, and performance capabilities. However there is a growing trend to host origins on premises, for instance to make sure that media doesn't leave 'the building' before it is encrypted, personalized or optimized. With Jet-Stream you have both options: use our high performance origins for live video, live radio, music, podcasts and videos, and also integrate your own on-premises origins with a single click. You can mix both your on-prem origins with our cloud origins in one account, to support multiple workflows. How cool is that.
Live encoding
Live encoding is commonly performed on-site because it involves preparing the original live video or audio feed for online streaming. And we offer extensive protocol support, including SRT, webdav, RTMP, ice, and HTTP. However, what sets Jet-Stream apart is its additional capability for cloud encoding. By using OnAir 4K, you can effortlessly stream at 4K quality directly from your browser with just a single click. And without the need for purchasing, installing, configuring and connecting on-premises encoders. Choose whatever option suits you best.
Transcoding
The current trend in the industry is towards cloud-based transcoding, which offers scalability and efficiency. Transcoding, being a demanding process that requires significant computing power, can benefit from dynamic scaling resources available in the cloud. Take advantage of Jet-Stream's integrated cloud transcoding service, which offers scalability, low latency, hardware acceleration, and provides you with full control over the output qualities and associated costs. By using Jet-Stream, you can also perform transcoding for your media and live streams independently, we deliver them to your audience in their pristine unaltered quality as you want. Freedom of choice.
Player
In most cases, video players are typically hosted in the cloud and served by global Content Delivery Networks to ensure optimal performance and scalability across the globe. However, in certain situations, there may be a requirement for a customised player setup that is self-hosted. The unique advantage we offer is the flexibility to choose between two options: running your own player in any location you prefer or using the powerful and interactive HTML5 video player provided by Jet-Stream.
Analytics
In the streaming industry, analytics are usually performed in the cloud due to the resource-intensive nature of log processing and analysis. In most cases you will want to use our reliable and comprehensive real-time analytics service, on a EU owned. All because of the access to detailed and trustworthy insights into your usage patterns and trends. But we offer a convenient solution by allowing you to seamlessly integrate with our advanced real-time processing infrastructure. This enables you to run your own on-premises analytics service.
Data protection
Clouds have high standards in security. However most clouds are not EU owned, and therefore there is a risk that your data (or users personal data) ends up in countries that do not protect data according to European standards. We see more and more requirements in tenders that non-EU clouds, CDNs and services are excluded, due to GDPR compliancy and privacy concerns. It is now time to check your vendors if they are US owned, or use US owned services. You are at risk of fines and reputational damage. Therefore, we see a counter-cloud trend where organisations are moving to on-premises services to keep data safe inside the EU, with EU vendors and infrastructure only. We have great news for you, since Jet-Stream Cloud is EU owned, EU hosted and is audited by EDPS, Europe's Data Protection Supervisor. Our active pro-privacy policy keeps data to the minimum, and actively protects your data.
No more need to choose!
If you follow an on-premises strategy, Jet-Stream provides the perfect orchestration platform to easily integrate your own encoding, transcoding, origin, CDN, player, analytics and security services in one unified suite.
On the other hand, if you have a cloud-based approach, Jet-Stream offers the full stack of media applications in its advanced streaming cloud, without the privacy drawbacks of US owned services.
And if your preference lies in having a dynamic mix of on-premises and cloud services to suit your specific business case, use case and workflow, we will help you orchestrate and mix.
Concluding
Making the choice between on-premises or in the cloud is not as black and white as it looks. Jet-Stream lets you easily use cloud services and mix on-premises services. Plus, at any point in the future you can migrate between on-premises or cloud at any level: encoding, transcoding, origin, cdn, security, vms, statistics and player. This gives you full control over use cases, workflows, quality, performance and costs. As a bonus, GDPR concerns with clouds are unnecessary thanks to our unique GDPR compliancy.
Break free! By choosing Jet-Stream Cloud, you not only simplify and improve your workflow but also save up to 40% of the total cost of ownership. So don't miss out on the opportunity to try Jet-Stream with a free 30-day trial.
Do you have any questions? Feel free to reach out to us and we will be glad to answer your questions or find a solution for your case!