Why are online video and live streaming strategic for education platforms?
Last updated: 4 January 2023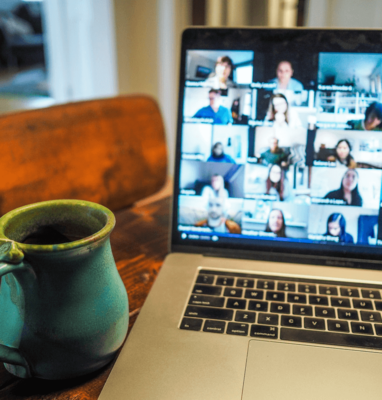 In recent years, the use of online video and live streaming in education has exploded. And it's easy to see why. With the increasing popularity of distance learning and the COVID-19 pandemic driving the need for alternative ways of delivering education, online video and live streaming have become vital tools for educational institutions.
Scaling knowledge and research.
Knowledge used to be spread by word, person to person. Classrooms, college rooms, and print scaled up how humanity could spread its knowledge. The Internet scaled up knowledge sharing to the extreme. We document more, learn and research faster and we can spread our latest insights with a single click, to millions.
Streaming is the ultimate communication technology.
No other medium is better suited to educate than video. Video captures information beyond text. An audio and visual representation can give much deeper context. Nothing comes closer to a real-life knowledge-sharing session than live streaming, a technology that we happen to have invented when we produced the world's first live stream from the University city of Groningen, the Netherlands. (We must admit that we dropped out of college to start streaming our dreams, sorry 😉
A global classroom.
One of the major benefits of online and live video in education is the ability to reach a wider audience. With the use of video conferencing tools and streaming platforms, educators can deliver lectures, workshops, and other educational content to students located anywhere in the world. This makes it easier for educators to reach students who may not have access to traditional in-person education, whether due to geographical barriers or other constraints.
Education, instruction, and training.
Thanks to the internet and video streaming, knowledge sharing goes beyond traditional educational institutions. Specialists and companies are launching eLearning and instruction platforms to share their knowledge and monetise their expertise. Great examples are sports instruction platforms, corporate training apps and industrial instruction sites.
Convenience.
Online video and live streaming are convenient. Students can watch lectures and other educational content at their own pace, on their own schedule, and from the comfort of their own homes. This can be especially useful for students in remote areas, far away from educational institutions. Or students who need to combine a job, or family life with education, or have other commitments that make it difficult for them to attend traditional in-person classes.
Engaging.
In addition to the convenience and accessibility offered by online video and live streaming, these technologies can also help to create a more engaging and interactive learning experience. Thus, combined with tools like live Q&A sessions, breakout rooms, dynamic contextual overlayed data, synchronised documents, and other interactive features, educators can create a more interactive and dynamic learning environment, which can help to keep students engaged and motivated.
Overall, the use of online video and live streaming in education is a strategic and valuable tool. It offers a wide range of benefits that can help to enhance the education experience.
Strategic for education
Streaming is as important for education today, as language and print were in the past. Therefore, streaming should be at the core of your organization's strategy, whether you are a University, High school, Elementary school, corporate training service, sports instruction platform or commercial knowledge platform.
Why Jet-Stream streaming for education, eLearning, and instruction services?
1. A strong partner with 25+ years of experience
As a pioneer in the streaming industry with over 25 years of experience, Jet-Stream has a reputation for reliability and expertise. Jet-Stream is well-known for its high-quality streaming platform. In addition to providing cutting-edge technology, Jet-Stream also offers support and guidance in areas such as use case development, and integrations.
2. A powerful streaming cloud with great streaming applications
Jet-Stream operates its own streaming cloud and offers a wide range of in-house applications such as live streaming, transcoding, hosting, multi-CDN, security, player, and analytics. This allows you to reach students across the globe with high-quality and high-performance streaming content, without hiccups.
3. Platform for everyone
Jet-Stream is user-friendly and easy to set up, making it a great choice for educators. eLearning and instruction platforms that may not have technical expertise. Take OnAir 4K for example, an innovative tool that lets educators and instructors stream live at 4K quality, straight from their browser, without the need for expertise or technologies. Meanwhile, if you want to customize your streaming experience, Jet-Stream offers a range of advanced features and tools that allow you to fine-tune your setup without needing any IT expertise. As an expert, you can quickly and easily build an advanced workflow on Jet-Stream, saving you time and effort compared to other platforms.
4. Multi-language support
Multi-language subtitle and audio support, make it easier for educational facilities to expand into other territories and offer user-friendly, accessibility-compliant media services. Moreover, integration options with automated translation, subtitling and narrative services allow institutions to reuse and scale content at low costs.
5. Cost reduction of up to 40%
Jet-Stream offers a range of features and tools that can help to reduce your total cost of ownership. These include workflow orchestration, multi-CDN algorithms, and an open architecture that allows more efficient use of internal resources, streaming traffic, transcoding, and storage. Additionally, many applications are bundled unlimited and for free with Jet-Stream, which makes this offer even more cost-effective.
6. Strong media and data protection
Finally, security features protect your business models and prevent deep linking and content hijacking. As a European company, with European infrastructure, Jet-Stream actively protects media and data in its secure cloud, ensuring that your valuable media and your data remain secure and private. Additionally, Jet-Stream is committed to protecting the privacy of your audience, making it a safe and secure choice for education.
Do you have questions about the Jet-Stream services for your business case? Contact us!