Azure Media Services retiring? Jet-Stream Cloud has you covered!
Last updated: 5 July 2023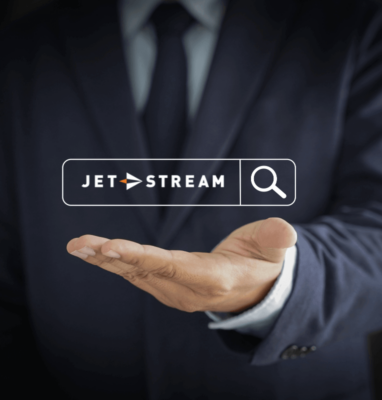 Microsoft announced that Azure Media Services will be retired per June 30, 2024. It seems like operating a cloud-based media platform proved to be more challenging and costlier than they anticipated. And it was decided to let the service go.
We can imagine that this can impact your mission critical streaming operation. But don't worry, we are here to help. Jet-Stream Cloud – we are 20 years in operation – goes beyond Azure Media Services in many ways:
Pipeline orchestration tools to save you time, headaches, and money
Jet-Stream Cloud was designed to quickly implement advanced streaming workflows, in a much easier and faster (and cost effective) way than you can do on regular cloud media services, while offering full control over every step in the process. You don't need a large staff of engineers to design, implement and operate a professional bespoke media workflow anymore.
Faster streaming, higher performance
Jet-Stream Cloud is not a generic cloud, but it's designed from the ground up for streaming: networking, hardware, software: it's all integrated and tuned, resulting in better performing streams and deeper integrations.
What does Jet-Stream Cloud offer?
1. Media pipeline orchestration:
Mix Workflow Orchestration architecture with built-in streaming tools at easy, smart and expert level to quickly setup bespoke workflows in minutes or days, not months.
Reseller environment to provision and manage multiple accounts and separate their workflows, access, and statistics. Usage overview for billing purposes.
Per account users and rights to support multi-user pipeline orchestration and integrations with third party encoders, transcoders, transmuxers, origins, CDNs, DRM, player and statistics.
GUI designed for engineers to quickly navigate, configure and integrate services, and go beyond what average video platforms offer.
For developers there are backend APIs, backend feeds, frontend APIs, Player APIs, and statistics APIs.
2. Jet-Stream Cloud's streaming stack:
Easy: OnAir cloud encoder, runs in your browser. Click and stream up to 4K. Built-in for free.
Smart: OnAir SDK cloud encoder, integrate live encoding in your portal.
Expert: connect your hardware and software encoders redundantly using SRT, RTMP, RTSP, Webdav, HTTP, Icecast protocols.
Live transcoding, up to 90% less costs compared to Azure
Easy: Built-in 4K adaptive streaming live transcoding with low latency, scene detection.
Smart: Create custom profiles and manage transcoding quality and costs per title, low latency, scene detection.
Expert: Integrate your own transcoding services, or passthrough original streams.
VOD transcoding, up to 60% less costs compared to Azure
Easy: Drag and drop for up to 4K vod transcoding.
Smart: Create custom profiles and manage transcoding quality and costs per title, scene detection.
Expert: Integrate your own transcoding services or upload original content directly to built-in Smart Origins.
Transmuxing, built-in for free, unlimited
Easy: Live and vod content is real-time transmuxed to adaptive HLS and DASH media.
Smart: Custom transmuxing tuning for low latency and multi-language streaming.
Expert: Transmux your content and ingest to Jet-Stream Smart Origins.
Origins, built in for free, storage pricing competitive to Azure
Easy: Built-in Smart Origins for 8K media storage, analysis, adaptive live streaming, icecast streaming, adaptive media streaming and podcast hosting.
Smart: Custom origins with use case specific tuning.
Expert: Integrate your own origin services
Multi-CDN, built-in for free, aggressive GB rates compared to Azure
Easy: Per request algorithm based automatic global load balancing, backed by 8 CDNs.
Smart: Manage multi CDN geo distribution per title in real-time.
Expert: Automate CDN monitoring and load balancing with bespoke multi CDN setup.
Security, built in, for free.
Easy: password protect and geo-fence individual titles and live streams in real-time, multi-CDN enabled.
Smart: implement tokens for enforced URL signing integrations with your portals, multi-CDN enabled.
Expert: Encrypt your media and combine with Jet-Stream security services.
Analytics, built-in for free.
Easy: Real-time statistics for trends and usage monitoring. No trackers required, multi-CDN realtime logs based, 100% accurate, no sampling.
Smart: Deeper trends and engagement monitoring with session length, bit rates, errors, 3 year retention.
Expert: tap into the realtime analytics API for further log processing and analytics.
Player, built-in for free
Easy: professional HTML5 media player for adaptive live video, live radio, on-demand video, media, music and podcasts.
Smart: API driven 2-way interactive, brand customizable player with IAB VAST ad integrations, contextual advertising, playlists, interactive overlays.
Expert: integrate third party players for playback on set top boxes, smart tv's and apps.
3. Broadcast grade performance
Jet-Stream Cloud is finely tuned for streaming, delivering content 430% faster and providing ultra-low-latency transcoding capabilities.
4. 40% cost reduction
Not only does Jet-Stream Cloud offer competitive rates for transcoding, storage, and traffic, but it also significantly reduces operational costs.

5. Data protection
We are 100% EU owned and hosted. GDPR compliant, audited by EDPS. We value and protect your data, which is yours, not ours.
6. 24/7 support
With 30 years of experience in streaming workflow orchestration and technologies, the European streaming tech team has achieved an impressive customer satisfaction rate of 9.5.
7. Green streaming
With our usage of certified green energy, automatic footprint algorithms, hardware-accelerated transcoding, and exclusive use of green data centers, we ensure a sustainable and eco-friendly streaming solution.
---
Don't wait until it's too late! Test Jet-Stream today!
With Azure Media Services retiring, you should seriously consider exploring the capabilities and advantages of Jet-Stream Cloud. To ensure that your switch is seamless and free of any issues, we've put together a "Migration Guide: from Azure Media Services to Jet-Stream Cloud". Take a deep dive into this guide to learn the step-by-step process and make your migration as smooth as possible.
Or start your free trial today and witness how effortlessly you can transition to a powerful and reliable streaming solution. Or reach out to us to discuss your use case.